Virtual Resources
Mind - Body - Spirit


Make your well-being and spirituality a priority. 
Have fun learning how to reach within creating your future from your present moment.. and not from your past.
The color of your life lies within yourself. 
Les formations en français sont également ajoutées à cette plateforme anglaise... en attendant d'avoir une plateforme distincte.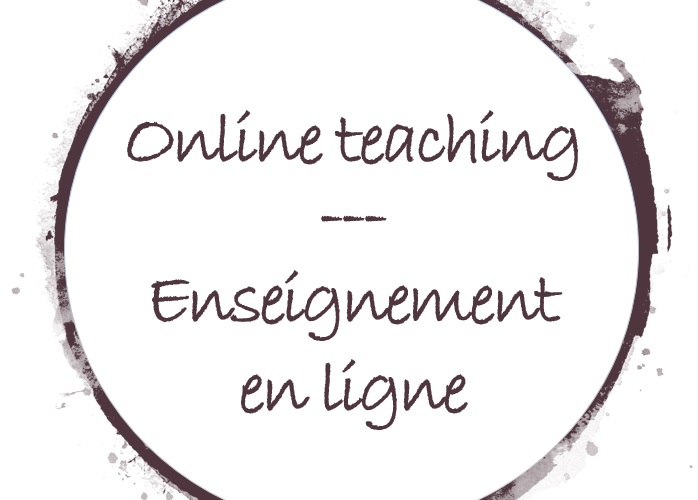 Online Courses
Each course is separated in modules to make it easy to follow at your own pace. PDF reminders included.
$50 - $300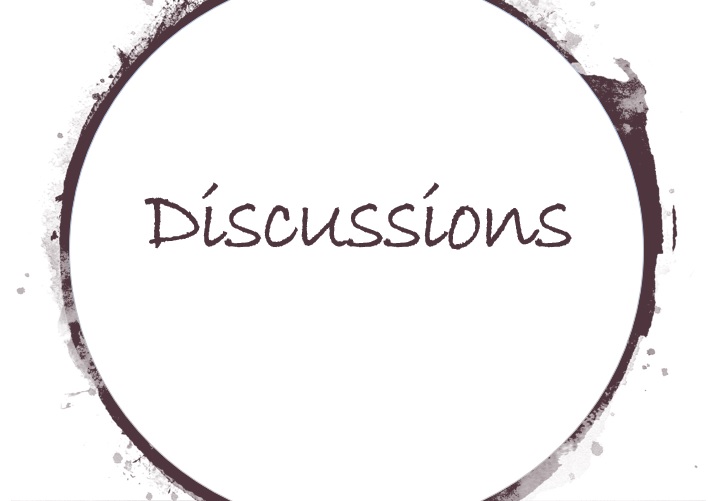 Discussions
Ease your mindfulness journey with a metaphysical standpoint. Topics simplified with visual support.
FREE - $0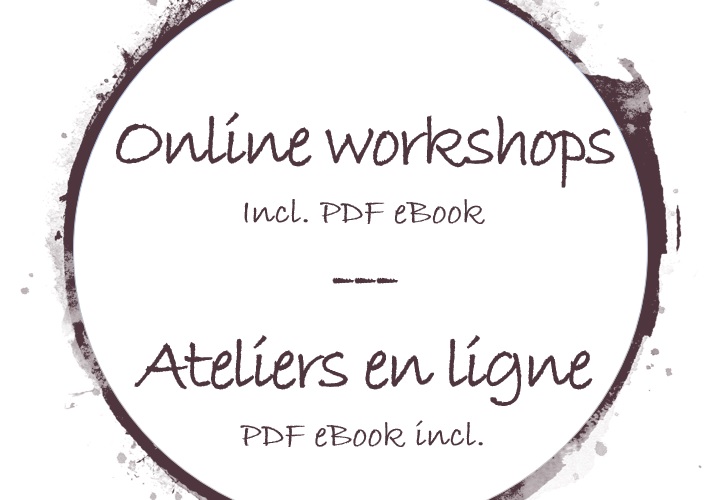 Online Workshops
Similar to online courses, these short workshops are overviews and how to. PDF eBook version included.
$20
New Online Course coming September 1st, 2021
Here is one of the video segments of the course How to Develop a Gratitude Attitude.
Turn your gratitude response into an unconditional Gratitude Attitude.
This online course is a four-week long course as there will be one step per week helping you to turn your gratitude practice and response into a Gratitude Attitude.
(Pre-recorded so you can follow at your own pace fitting your personal schedule.)
*** New Online Course ***
La version française de cette formation en ligne sera disponible début octobre.
Enseignants ? Bonne nouvelle! Le matériel pour enseignants et étudiants est disponible en français. Procurez-vous le livre en version électronique en français et vous aurez tout ce dont vous avez besoin pour aider vos élèves à intégrer la gratitude dans leur quotidien.
Enroll for free!
Discussions are all free of charge.
Pay only for the chosen courses and workshops.
Payez uniquement pour les ateliers et formations en ligne choisies.


Now Available - Présentement Disponible
You work with clients or students?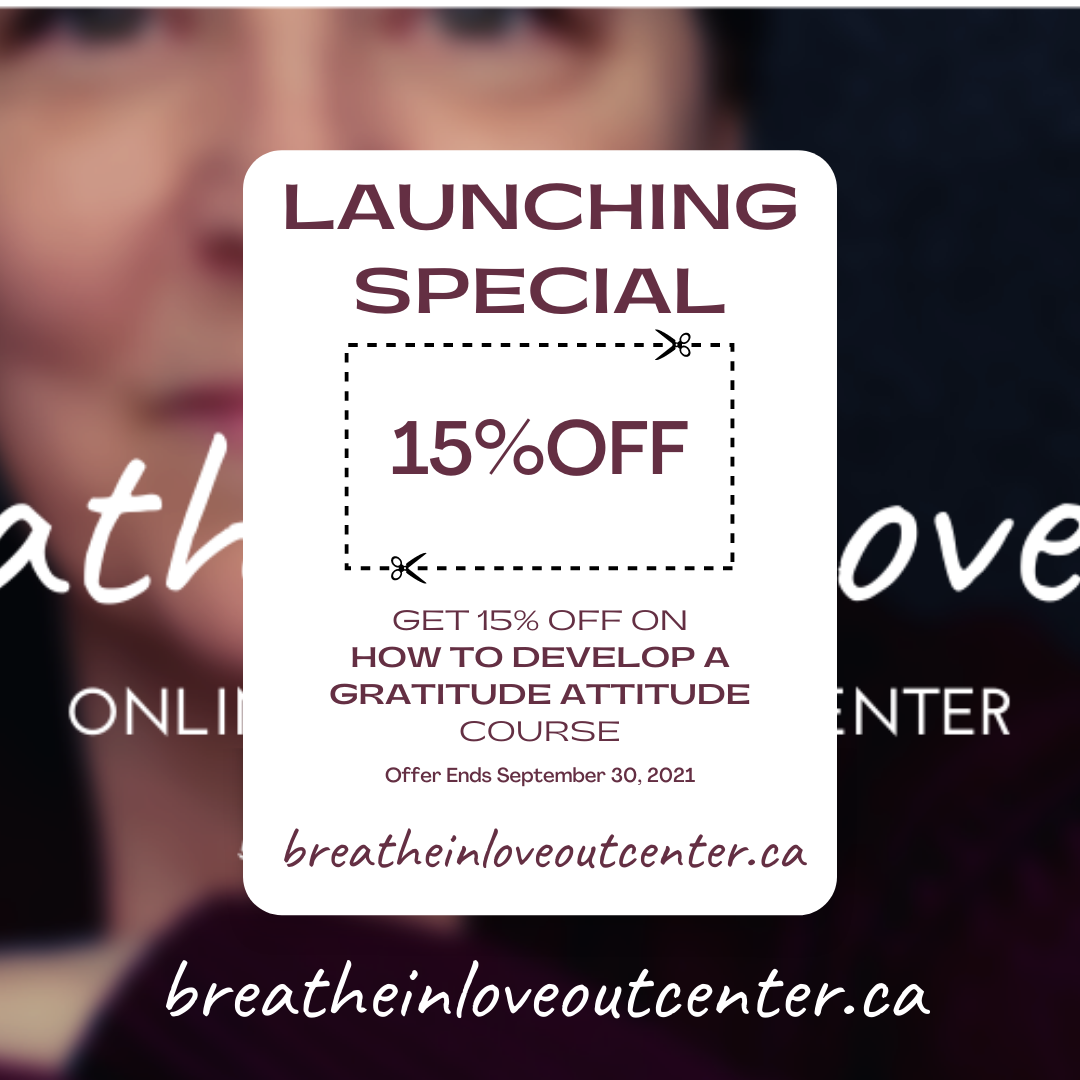 *Launching Special*
Get 15% off on
How to Develop a Gratitude course
Offer ends September 30, 2021
Si vous préférez les livres, cet enseignement est également disponible sous forme de livre.
Disponible sur Amazon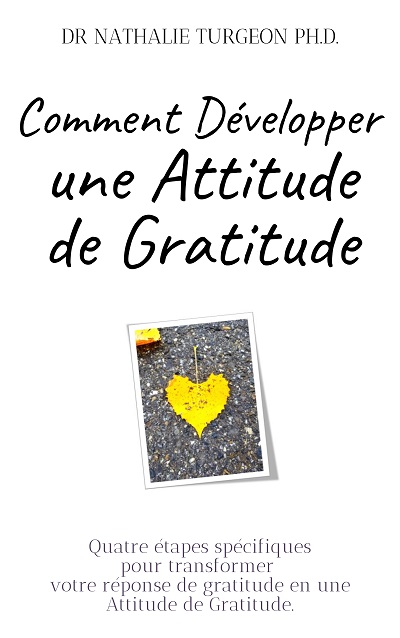 More Topics to come...
pre-recorded to follow at your own pace... so you can make your well-being and spirituality a priority in your schedule.
Free discussions
Have you met your Inner Self?
Why meditation is so important.
Inspired Actions and Ego-based Actions.
The Power of Conscious Affirmations.
Are you at ease with your spiritual practice?
Beyond your physical senses.
Workshops
Are you afraid of dying?
Life before physical death, allowing yourself to live.
How to reach a better client's collaboration using numerology.
Courses
Meditation to connect within.
Don't tell me to let go, teach me how.
How to read and use your emotions to meditate.
How to follow your dreams.
Establishing positive patterns.
Life cycles with numerology.
Personal life lessons with numerology.
How to do Oracle cards readings without your Ego?
How to do Tarot cards readings without your Ego?
Morning Affirmation Meditations
Package - coming soon!
Too busy to meditate and you don't know how to sit with an intention for few minutes?
Learn to sit still and be mindful for 3 minutes per day. Create a good habit!
This package will include 31 moments of meditation of 3 minutes each allowing you to focus on your breathing (at your own pace) while keeping your intention on the affirmation of the day.
Either to start your day with a Zenful energy, to quiet your busy mind during the day, or to unwind at the end of the day... sit, relax, say the affirmation... Breathe in, Smile and Love out.
Try it! Enjoy!
Méditations d'affirmation du matin
Forfait - à venir !
Trop occupé pour méditer et vous ne savez pas comment vous asseoir avec pleine conscience pendant quelques minutes ?
Apprenez à rester assis avec pleine conscience pendant 3 minutes par jour. Créez une bonne habitude !
Ce forfait comprendra 31 moments de méditation de 3 minutes chacun vous permettant de vous concentrer sur votre respiration (à votre rythme) tout en gardant votre intention sur l'affirmation du jour.
Soit pour débuter votre journée avec une énergie Zen, pour calmer votre esprit occupé pendant la journée, ou encore vous détendre à la fin de la journée... asseyez-vous, détendez-vous, dites l'affirmation... Inspirez, souriez et aimez.
Essayez-le ! Prenez-y plaisir!
Check your inbox to confirm your subscription