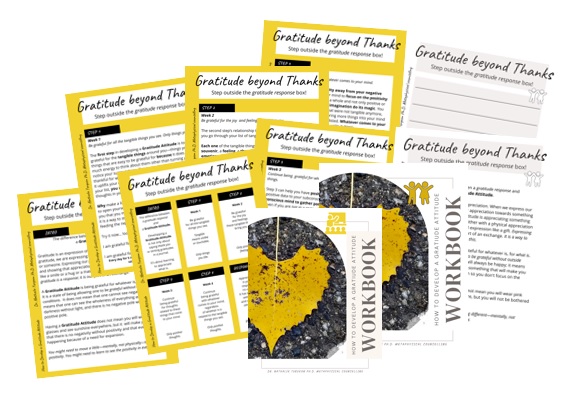 Let's bring Gratitude beyond Thanks together.
*Create a fun activity with your students.*
Material for teachers
You have taken the online course or have read the book How to Develop a Gratitude Attitude?
I have created material so you can use the same teaching method and teach Gratitude to your students.
Teach your students how to integrate and how to develop a Gratitude Attitude following the same steps few minutes per week for you and few minutes per day for them.
You can make it fun.
Teach them about their well-being and how it starts with them.
I have created a lesson plan and two workbooks, one for you and one for your students. They both contain the weekly explanation and the number of pages each week for them to put this into practice.
The workbooks are printable PDF.
Enjoy sharing and teaching How to Develop a Gratitude Attitude without effort.
Make it fun! Bring Gratitude beyond Thanks!
Material to Download and Print
Available in / disponible dans days / jours

days / jours after you enroll / après votre inscription

Material for Teachers
Dr. Nathalie Turgeon Ph.D.
Doctor of Philosophy, specialized in Metaphysical Counselling.
Metaphysical practitioner, Holistic Therapist, Reiki Master