Do you know that you are stuck in some old habits, beliefs and patterns?
Do you want to break free from your automatic negative mindset?
Do you want to understand your life lessons to accept your life experiences for what they are and bring you?
Do you have enough and want to tap into your Inner power because you Are enough and you know it deep inside?
Are you ready to have a better connection and collaboration with your Inner Self and Higher Consciousness?
Are you ready to commit 100% to your well-being and happiness, no excuses?
Are you ready to work on your well-being every day and create your own positive spiritual habits?
If you have answered yes to all of the questions, you are ready to start reprogramming your mindset by reprogramming your subconscious, and take power over your life. You are ready to do the Inner work to put your ego on the passenger' seat as your ally, and trust your Inner Self to guide you towards your dreams and goals.
Take action!
You will not do this alone, I will be with you every step of the way. 
While you can request a single consultation when you need it, this spiritual coaching program is when you have decided to commit to your well-being, mind, body and spirit.
This 11-week program requires your full and mindful commitment over the 11 weeks it will take for you to collaborate with your spiritual being experiencing your physical being, and comprehend that you already have the Infinite power within yourself. Together we will assess your ego-based mind beliefs and patterns to reprogram them on a subconscious level, so when your conscious mind gathers the data from your subconscious, you own them mindfully as you have created them from your now to create your tomorrow.
This is a lifetime process, and it is my pleasure to help you start it mindfully.
Together we will lift up the ego veil, so you can connect and collaborate with your Inner Self, your Infinite power that is already and always there. You will be equipped with tools to help you understand your ego-based mind and make it your ally and not the controller of your now. You will learn how to allow your ego to take the passenger seat. While we might spend 60 minutes together, be ready to commit to some time on your own every day.
Together we will help you be at ease with your spirituality stepping away from false beliefs and no longer necessary patterns to fully embrace the wholeness and uniqueness of who you are.
During this 11-week spiritual coaching program, you will learn how to clarify your now so you can create your tomorrow; how to accept what is and was, and what were are your beautiful life lessons, not only during the sessions but also after the sessions. You will be equipped to do this on your own (meditation, mindfulness affirmations, spiritual mind treatment affirmations, worksheet, workbook and more).
1
Your first assignment is to accept that you want to feel better, take the time to do so, and wish to find that equilibrium, your mind, body and spirit equilibrium.
2
Your second assignment is to watch this short video so you can see where we will start. (click the following link to see it on my YouTube channel or search in the Free content here on this platform)
3
And your third assignment is to commit to your well-being for 11 weeks.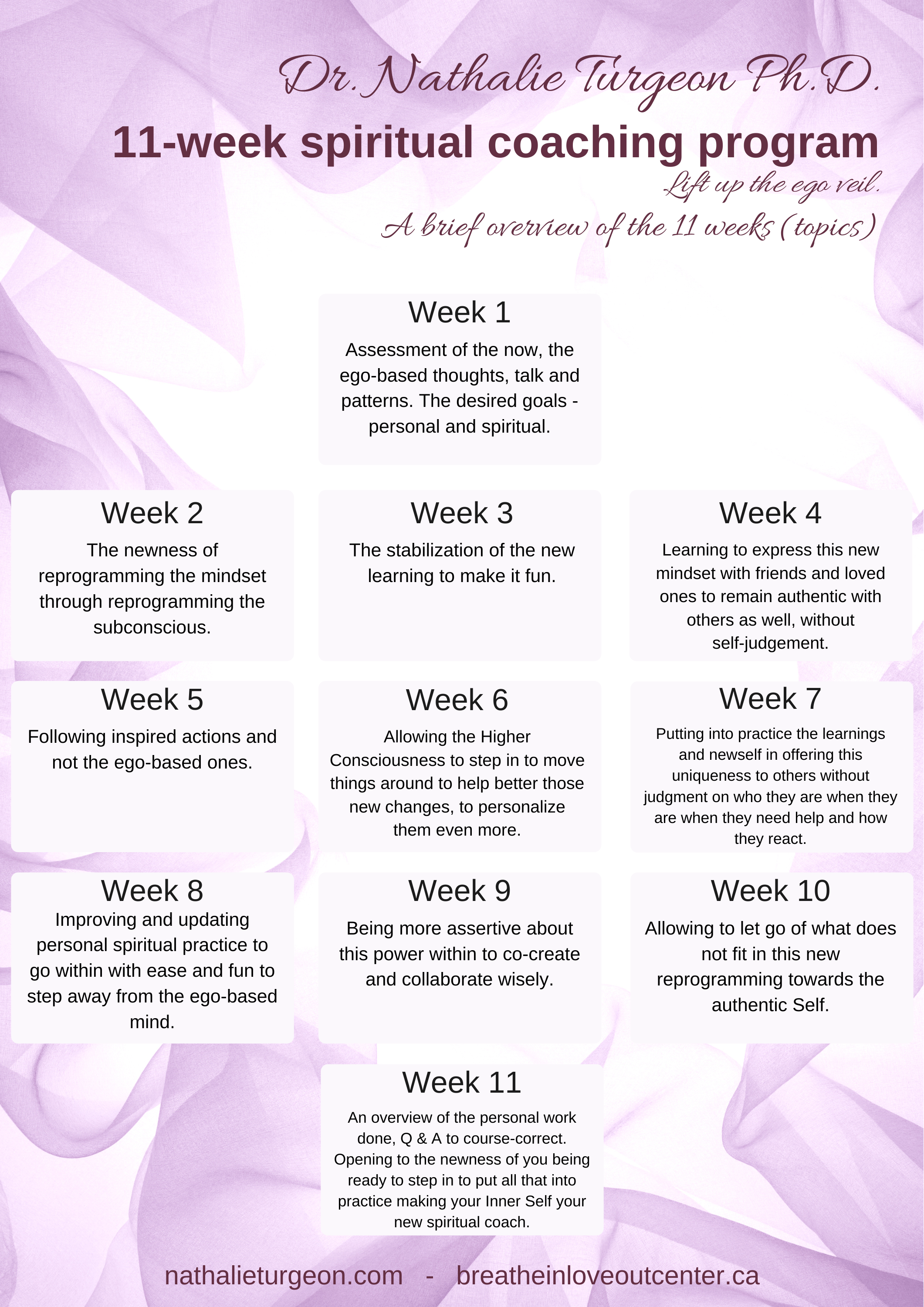 Week 1 - Assessment of the now
Week 2- Newness, new beginning
Week 3 - Stabilization of the newness and what you already have
Week 4 - Self-expressing this newness

Week 5 - Allowing inspirations and inspired actions

Week 6 - Adaptability to unplanned changes
Week 7 - Being responsible for this newness in your life
Week 8 - Collaborate with your Self to improve your life
Week 9 - Reclaiming your Inner power back
Week 10 - Transformation in letting go of the old you
Week 11 - Overview and Q&A course-correction
Thanks for submitting your information! Please continue with the checkout process.
One-on-one coaching mentoring with me for 1 hour every week for 11 weeks.
+
Bonus
Get these free access and gifts making sure you have extra tools to help your journey.
PDF version of my book How to Develop a Gratitude Attitude.
Free access to the Wheel of life through gratitude online little course/presentation and PDF workbook.
Free access to the Chakras Harmonization online course/presentation.
Free access to the Healing your Energy Affirmations meditations.
You don't need to request them, you will receive them throughout the journey.


Frequently Asked Questions
Can I get a refund for the sessions that are not done?
Hm! If you are already thinking about not committing yourself and asking for a refund, this program is not for you. You can simply request a single consultation following the link above. This 11-week spiritual coaching program is one you wish to commit yourself to as it will bring you to investigate your Self within yourself and do the personal and mindful work for you to connect within and work in full collaboration with your Inner Self, your Higher Self. This program allows you to lift up the ego veil and see clearly in your now at all times, so you can better mindfully create your tomorrow. This 11-week spiritual coaching program is design to help you face all situations with a gratitude attitude knowing that everything has its expansion reason for your personal and spiritual growth you wished to experience when you were born.
Do we schedule all the sessions at once or one by one?
We will schedule them one by one, but we will also look if there is a day that is better for you than others and we will place tentative appointments during those for the 11-week spiritual coaching program. Each one will be confirmed one week at a time.
What if one week I am not available for the session, can we postpone it or reschedule it?
Of course! We all have expected and unexpected situations in our life, which I call the little joys of life. I suggest strongly to reschedule within the same week to keep the beautiful work you will be doing in motion. My personal schedule is not fixed therefore I will find the time for you. If we cannot reschedule within the same week timeframe, we will do it as soon as possible within the next week to avoid postponing the following ones.
Can I stop the program because I am going away and get back to it when I come back?
Yes you can! You might have some homework to do while away to make sure you remain committed to your well-being commitment. Simply let me know in advance so I can prepare something for you according to where we are in the program.
What if at the end I am not satisfied with the result, can I get a refund?
There are no refunds on my services and online courses as no matter how little or a lot you learned, the information, the documents, and the time we will have spent together are therapist time and services already received. This is different than an unopened product. I invite you to step away from your ego-based mind telling you that you might already know everything, which you are, but you simply might not be connected to that infinite powerful source of information within yourself to see it with a different angle, and your ego-based mind is simply twisting this for its own survival purpose. I assure you, the quality of my work is mine, but the result is yours. This is the beautiful self-responsibility you will also learn in this program.
If I book the consultations one at a time without the 11-week spiritual coaching program, can I have the same service as this program?
No, this program is designed with a specific approach that progresses with the meetings and covers aspects that are not necessarily looked at during regular and sporadic consultations. There is also a commitment which is constant during the 11 weeks in order to ensure a better success of the personal reprogramming carried out. However, you will have the same philosophy and similar tools as in this program in the well0being consultations; my goal is the same, to help you improve your well-being.